Sunday School

Teaching our children is a primary and ongoing task of joy for us. In the years before confirmation instruction, our children have a chance to learn Bible stories, memorize the Catechism, and serve their Savior in a number of ways: as acolytes during our worship services, as helpers in the "house-keeping" chores of the congregation, and in various special projects of their own.


Four Corners Mission

Old Zion supports Four Corners Mission, a confessional Lutheran mission society which is dedicated to proclaiming the Gospel of Jesus Christ in Eastern Europe and beyond. Through on-the-field mission work, translation and publication of Lutheran literature, and the Christian education of young and old, Four Corners Missions works to establish mission churches by providing for their nurture and development.


Clothing and Food for the Needy

At Old Zion, we are acutely aware of the needs of the homeless and the disadvantaged, and we maintain an on-going program of collecting food (canned and non-perishable items) and clothing which we distribute to nearby shelters. The food we gather currently helps to supply Project H.O.M.E, on nearby Fairmount Street, and the Sunday Breakfast Rescue Mission, a nearby non-profit organization which ministers in the name of Christ to the needy. The clothing is distributed to several shelters both in Philadelphia and in New Jersey.

You can visit the Sunday Breakfast site
here
to see how you can help as well!


Organ Restoration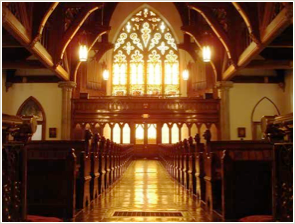 Our beautiful and historic organ is currently nearing the end of an extensive renovation process that has helped to restore much of its original sound. First, the pipes had to be cleaned and repaired after years of improper tuning techniques which made for changes in the timbre of the instrument. The winding has also been renovated with new bellows and air delivery system. We are currently awaiting the completion and installation of a new control system and renovated console (keyboard). The pipes in the rear of the church (not pictured), also include an echo unit that was renovated, along with a new chime unit, thanks to the generous gifts of members.

The Organ was originally built and installed in 1898 by King and Sons Organ Co as a mechanical tracker organ. In the early 1900's the organ was electrified. In the 1960's, the organ underwent its first major overhaul, when a new console was installed and moved back from the organ casing by Mudler Hunter Co. Our current organ tuner/builder is William DeGothsier.

One division of the organ (the Swell) is currently operational and in use on Sunday's.